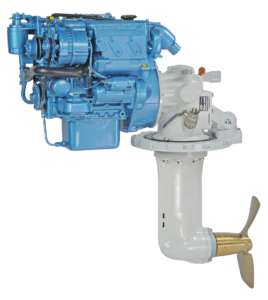 Nanni has the expertise to supply you with the right engine and the right transmission for your boat and program.
Nanni engines are using advanced injection technology, well ahead of the future emission standard's compliance. All engines up to the N4.60 are compliant with EPA Tier 3. Nanni engines are reliable, for a safe usage in harsh conditions with less maintenance.
At the same theoretical power, Nanni engines have more torque and are more effective in terms of propulsion. It is the choice of around-the-world racers and cruisers, such as Michel Desjoyeaux, winner of the last Vendée Globe. The engine gears are strong and well-manufactured for an excellent yield, sturdiness and longevity.
Engine
Power
hp (kW)
Nb
cylinders
RPM
Displ.
cm3
Weight
kg
Aspiration
N2.10
10 (7.36)
2
3000
479
123
Natural
N2.14
14 (10.3)
2
3600
479
127
Natural
N3.21
21 (15.4)
3
3600
719
141
Natural
N3.30
29 (21.3)
3
3600
1123
180
Natural
N4.38
37,5 (27.6)
4
3000
1498
185
Natural
N4.40
40 (29.4)
4
2800
1999
250
Natural
N4.50
50 (36.8)
4
2800
2197
258
Natural
N4.60
60 (44.2)
4
2800
1999
270
Turbo
Discover the Nanni Kubota based range specifically designed for sailing yachts, eight models from 10hp to 60hp
The Nanni sail drive range consists of eight new SP60 Sail Drive packages with engines from 10hp to 60hp meeting the demand of many customers and prestigious shipyards. Nanni engines are setting the ultimate standard in efficient maneuvering at low speed, robustness and power at low rpm, comfort and safety in harsh weather conditions and longevity.
Nanni Shaftline Range – for sailing yachts
Nanni's commitment for reducing environmental impact starts by a proper dimensioning of the engines enabling a yacht to reach its optimal cruising speed, without overpowering it. Moreover, Nanni's technical know-how and experience in the field have always ensured high quality end products. Our shaftline range for sailing yachts from 10hp to 115hp gives you robustness and power at low rpm.
To see the full range of shaft line engines for sailing yachts, please click
here
.